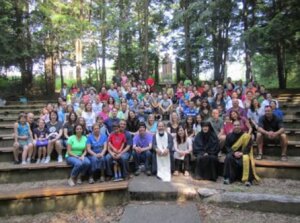 We encourage you to create an account for your family ahead-of-time so registering is easier!
Family Camp is an opportunity for your family to get away from everyday life and take a weekend as a family to grow closer to Christ, in the beautiful setting of the Antiochian Village Camp. At Family Camp, eating a meal together as a family is the norm, not the exception.
Not your typical vacation, Family Camp offers a mini-vacation without maps, lines for popcorn, or decisions over where to eat. Our flexible schedule gives you the choice of "doing it all" from canoeing to volleyball, or just taking it easy and savoring a good view from a picnic bench.
Because you're at the Village, the day is measured not so much by hours, but by prayer—the day is bookmarked with Matins and Vespers in beautiful St. Ignatius Church, with services sung by everyone present. Family Builder sessions offer practical, down-to-earth resources for keeping our families strong.
Some of our families come to meet up with families of far-away friends; others have come and made friends and come back to reunite. Either way, in addition to family time, our moms, dads and kids also enjoy meeting and spending time together.
Cost Structure: $300 for the first 2 family members, and $50 for each additional family member over the age of 5. Children age 5 and under are free! Note – to register, a $100 deposit is required!
Memorial Day Weekend –  May 22-25, 2020
Family Camp 2020 Speaker: Dr. Philip Mamalakis from Boston, MA!
Dr. Philip Mamalakis with his wife, Georgia, have seven children and live in Boston, Massachusetts where he is the Assistant Professor of Pastoral Care at Holy Cross Greek Orthodox School of Theology. Dr. Mamalakis directs the field education program and teaches classes on pastoral care, marriage and family, grief, death and dying, and topics related to pastoral counseling. Dr. Mamalakis has an Masters of Divinity from Holy Cross Greek Orthodox School of theology and a Ph.D. from Purdue University in child development and family studies, specializing in marriage and family therapy. Together with Fr. Charles Joanides, Dr. Mamalakis published, The Journey of Marriage, (GOA 2012) a resource for couples preparing for marriage in the Orthodox Church and is the author of Parenting Toward the Kingdom, Ancient Faith Publishing's bestselling Orthodox parenting book (Ancient Faith Publishing, 2016). In addition to his teaching and writing, he enjoys offering seminars and retreats throughout the United States and internationally on intimacy, relationships, marriage, parenting, and family life as well as Orthodoxy and psychology.
Important Family Camp 2020 Documents & Information:

Family Camp Promotional Video 2018