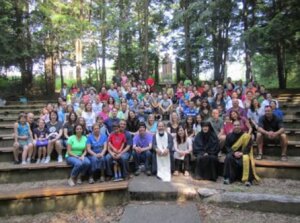 We encourage you to create an account for your family ahead-of-time so registering is easier!
Family Camp is an opportunity for your family to get away from everyday life and take a weekend as a family to grow closer to Christ, in the beautiful setting of the Antiochian Village Camp. At Family Camp, eating a meal together as a family is the norm, not the exception.
Not your typical vacation, Family Camp offers a mini-vacation without maps, lines for popcorn, or decisions over where to eat. Our flexible schedule gives you the choice of "doing it all" from canoeing to volleyball, or just taking it easy and savoring a good view from a picnic bench.
Because you're at the Village, the day is measured not so much by hours, but by prayer—the day is bookmarked with Matins and Vespers in beautiful St. Ignatius Church, with services sung by everyone present. Family Builder sessions offer practical, down-to-earth resources for keeping our families strong.
Some of our families come to meet up with families of far-away friends; others have come and made friends and come back to reunite. Either way, in addition to family time, our moms, dads and kids also enjoy meeting and spending time together.
Cost Structure: $300 for the first 2 family members, and $50 for each additional family member over the age of 5, with a maximum of $450 per family. Children age 5 and under are free! Note – to register, a $100 deposit is required!
Memorial Day Weekend –  May 25 – 28, 2018
Family Camp 2018 Speaker: Bishop JOHN of Worcester & New England!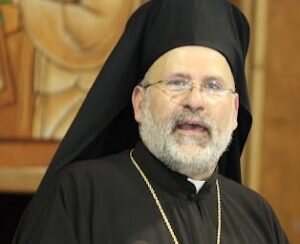 Bishop John (Abdalah) holds a Doctor of Ministry degree in Pastoral Care from Pittsburgh Theological School, a Master of Divinity from St. Vladimir's Seminary, a Master's equivalency certificate in Pastoral Counseling from Pittsburgh Pastoral Institute, and a Bachelor of Science in Business Administration from Suffolk University in Boston, Massachusetts. Throughout Seminary and following his studies, he also studied Arabic.
Bishop John is a clinical member of the American Association of Pastoral Counselors. He taught Pastoral Counseling in the graduate program at the St. John of Damascus Institute at the Balamand in Lebanon. For 33 years, he served as a priest of the Antiochian Archdiocese of North America; he served as Dean of St. George Cathedral in Pittsburgh, PA for 16 years, 16 years at St. George Church in New Kensington, PA, and 1 year at St. George Church in Little Falls, NJ.
Bishop John has also edited The Word magazine, has been the Spiritual Advisor for the Antiochian Women, and has served as Dean of the Western Pennsylvania clergy and churches for many years. Bishop John also served for nearly ten years as NAC Spiritual Advisor for the Fellowship of St. John the Divine, and he teaches Priestly Formation for the Antiochian House of Studies, while mentoring the full-time seminarians in the Antiochian House of Studies programs.
Married to Joanne Josephs until her repose on May 25, 2008, Bishop John is the father of Gregory, Joseph, and Maria. He grew up at St. George Orthodox Church in Boston and has two siblings, Ernest and Khouria Janet Shadid.
On Sunday, December 11, 2011, Bishop John was consecrated as Auxiliary of the Diocese of Worcester and New England, for the Antiochian Orthodox Christian Archdiocese of North America.
Important Family Camp 2018 Documents & Information:

Family Camp Promotional Video 2017