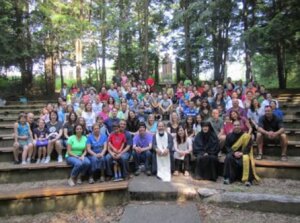 We encourage you to create an account for your family ahead-of-time so registering is easier!
Family Camp is an opportunity for your family to get away from everyday life and take a weekend as a family to grow closer to Christ, in the beautiful setting of the Antiochian Village Camp. At Family Camp, eating a meal together as a family is the norm, not the exception.
Not your typical vacation, Family Camp offers a mini-vacation without maps, lines for popcorn, or decisions over where to eat. Our flexible schedule gives you the choice of "doing it all" from canoeing to volleyball, or just taking it easy and savoring a good view from a picnic bench.
Because you're at the Village, the day is measured not so much by hours, but by prayer—the day is bookmarked with Matins and Vespers in beautiful St. Ignatius Church, with services sung by everyone present. Family Builder sessions offer practical, down-to-earth resources for keeping our families strong.
Some of our families come to meet up with families of far-away friends; others have come and made friends and come back to reunite. Either way, in addition to family time, our moms, dads and kids also enjoy meeting and spending time together.
Cost Structure: $300 for the first 2 family members, and $50 for each additional family member over the age of 5. Children age 5 and under are free! Note – to register, a $100 deposit is required!
Memorial Day Weekend –  May 24-27, 2019
Family Camp 2019 Speaker: Fr. Nicholas & Presv. Roxanne Louh from Jacksonville, FL!
The Reverend Dr. Nicholas Louh was born in Jacksonville, Florida on September 25, 1974 and currently serves as the Senior Pastor of St. John the Divine Greek Orthodox Church.
Fr. Nick served on AV staff from 1996-1999 as a counselor and then as Assistant Camp Director. Upon graduating from the University of North Florida, Rev. Louh entered Holy Cross Greek Orthodox Seminary in Boston, Massachusetts and graduated with a highest distinction Masters of Divinity (1999) and a Masters of Theology (2000). He then attended Gordon Cornwell Theological Seminary where he earned a Doctorate of Ministry (2003) with an emphasis on Pastoral Counseling in the urban ministry.
In addition to his role as pastor at St. John the Divine, Rev. Louh serves as the Vicar for the Eastern Florida Conference of the Holy Metropolis of Atlanta and a member of Greek Orthodox Church Archdiocese Council. He is also an Adjunct Professor of World Religions at the Florida State College at Jacksonville and is the chaplain for the Jacksonville Sharks Arena Football Team. He appears on WJCT radio as part of the "God Squad", a monthly panel discussion broadcast program discussing a broad array of religious topics of current interest. He also proudly serves on several local and state boards, including OneJax. He is the co-host of a live call-in radio show with his wife, Dr. Roxanne Louh, called "Healthy Minds | Healthy Souls", which can be found on Ancient Faith Radio on the 2nd and 4th Tuesday of every month at 8pm. Rev. Louh also shares daily inspirational radio messages on 92.5 FM Sports Radio, as well as on local cable television.
Presbytera Dr. Roxanne Louh, a native of Gainesville, is a licensed clinical psychologist in Jacksonville, Florida, where she uses her extensive training in private practice. She is in great demand both as a therapist and as a speaker with expertise in a variety of concerns, including mood disorders, anxiety disorders, marriage and parenting issues, and eating disorders, and is frequently invited to present to national groups, schools, and churches across the country.
Rev. Louh and Dr. Roxanne Louh have two children, George and Gabriella.
Important Family Camp 2019 Documents & Information:

Family Camp Promotional Video 2018