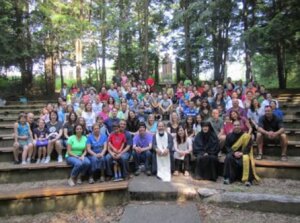 Family Camp is an opportunity for your family to get away from everyday life and take a weekend as a family to grow closer to Christ, in the beautiful setting of the Antiochian Village Camp. At Family Camp, eating a meal together as a family is the norm, not the exception.
Not your typical vacation, Family Camp offers a mini-vacation without maps, lines for popcorn, or decisions over where to eat. Our flexible schedule gives you the choice of "doing it all" from canoeing to volleyball, or just taking it easy and savoring a good view from a picnic bench.
Because you're at the Village, the day is measured not so much by hours, but by prayer—the day is bookmarked with Matins and Vespers in beautiful St. Ignatius Church, with services sung by everyone present. Family Builder sessions offer practical, down-to-earth resources for keeping our families strong.
Some of our families come to meet up with families of far-away friends; others have come and made friends and come back to reunite. Either way, in addition to family time, our moms, dads and kids also enjoy meeting and spending time together.
Memorial Day Weekend –  May 25 – 28, 2018
Important Family Camp 2018 Documents & Information:

Family Camp Promotional Video 2017