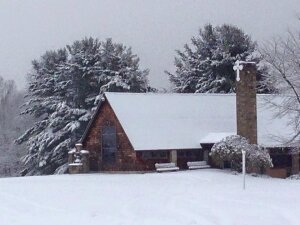 Winter Camp is a weekend retreat for those in grades 7 – 12, held over Presidents Day weekend in February. We average about 150 campers at Winter Camp each year! Campers arrive on Friday night and leave on Monday, as most schools are closed on Monday for the holiday. Borrowing some of your favorite activities from the summer, Winter Camp includes: Christian Ed with multiple speakers, Afternoon Program, Evening program, and much more! Winter Camp also provides a chance to meet other campers from different regions and different sessions from the summer!
For Winter Camp, our campers will stay in our recently constructed heated log cabins.  All meals, services, and activities are held at the Camp. Cost is $150.
February 15 – 18, 2019
For Campers in Grades 7-12
Cost $150

Theme – "You Just Gotta Have Faith!"
(scroll down to see our speakers!)
Winter Camp Promo Video From 2017:
Winter Camp 2019 Speakers
Angeliki Constantine
Angeliki Constantine is Educational Ministry Specialist for the Department of Religious Education for the Greek Orthodox Archdiocese of America. She has Bachelors in Early Childhood Education from Hellenic College and Masters of Divinity from Holy Cross Greek Orthodox School of Theology in Brookline, MA. She is also the part-time youth director at St. Nectarios Greek Orthodox Church in Roslindale, MA, where she runs the youth group, coaches the girls basketball team, and co-teaches high school Sunday School!
Erin Ghata
Erin Ghata is a native Kansan who has spent the last eleven years in Oklahoma where she served as the full-time parish Youth Director for St. Elijah in Oklahoma City from 2007-2016. She has been the Program Director for Camp St. Raphael for 12 years and is also the Diocese Youth Director for the Antiochian Diocese of Wichita and Mid-America. When she's not spending her time working on camps and other youth events, she can usually be found winning board games, eating food she didn't cook with her husband Joe, or hanging out with her beagle Cal.
Dn. Martin Johnson, Jr.
Fr. Deacon Martin Johnson, Jr. is a Senior Consultant for Federal Occupational Health in the Department of Health and Human Services and works as an Executive Coach for the Department of Homeland Security. After completing his service in the U.S. Navy Chaplain Corps as a priest, he continues to advise and counsel senior officers and families as a life coach when they transition from military service.
He was ordained to the Holy Diaconate of the Antiochian Archdiocese in August 2018 and serves at St. Anthony's Antiochian Orthodox Church in Butler, PA.  He is a crisis counselor, suicide prevention and response instructor, and a facilitator for outpatient cognitive intervention. He also works in pre-marital counseling. He is a dedicated educator and coach who inspires young adults, students, and parishioners to learn the faith and stay engaged in the pursuit of the sacramental life.
Deacon Martin has extensive experience in public speaking, coaching, and community outreach. He has a BA in Liberal Arts from Western Illinois University, an MDiv in Theology and Philosophy from Bryn Athyn College, a MS in Business Management from Colorado Technical University, and Doctorate of Ministry in Practical Theology: Eastern Orthodoxy from Barry University.  Deacon Martin travels regularly and resides in Pennsylvania with his wife, Shamassy Melinda Johnson, a published author with Paraclete Press and Ancient Faith Ministries, and their daughter.
Paul Karos
Mr. Karos has had a successful 35 + year career on Wall Street.  He ran hedge fund portfolios for 13 years at his own firm Aplos Advisors, Whitebox Advisors, and Millennium Partners.  He was President of Piper Jaffray's Investment Banking and Equities Division where he led the firm to become a national investment banking player.  Earlier in his career, he was Managing Director of CS First Boston, where he was named the number one-ranked airline analyst in the world for five straight years.
For many years he has been involved in a variety of ministries in the Orthodox Church.  He has been the Retreat Leader for several men's, youth, and family camp retreats across the country.  He is a bible study leader for the Minnesota Orthodox Christian Prison Ministry Team.  He conducts pre-marital counseling with and on behalf of priests as a trained Prepare and Enrich counselor.  As of June 2018, Mr. Karos founded Matrona Ministries, a lay Orthodox Christian ministry which performs coaching one-on-one, parish retreats, and Orthodox Christian life assessments.   Mr. Karos earned his Master of Arts in Applied Orthodox Theology through the University of Balamand, Lebanon and a BS of Business Administration from the University of Minnesota.
He gives numerous motivational presentations to business and school groups as well.
Mr. Karos is married to his wife, Cindy and has three children, including 2018 AV counselor Peter Karos.  He has been legally blind since his teen years, and is now 98% blind.