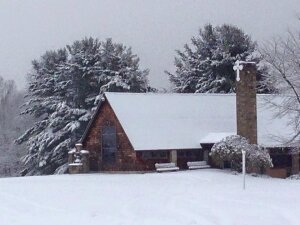 Winter Camp is a weekend retreat for those in grades 7 – 12, held over Presidents Day weekend in February. We average about 150 campers at Winter Camp each year! Campers arrive on Friday night and leave on Monday, as most schools are closed on Monday for the holiday. Borrowing some of your favorite activities from the summer, Winter Camp includes: Christian Ed with multiple speakers, Afternoon Program, Evening program, and much more! Winter Camp also provides a chance to meet other campers from different regions and different sessions from the summer!
For Winter Camp, our campers will stay in our recently constructed heated log cabins.  All meals, services, and activities are held at the Camp. Cost is $150.
February 14 – 17, 2020
For Campers in Grades 7-12
Cost $150

Theme – "Being a Missionary – at home and abroad"
(scroll down to see our speakers!)
Winter Camp Promo Video From 2017:
Winter Camp 2020 Speakers
Fr. Nick Belcher
Fr. Nick is a former AV counselor, head counselor, and current summertime Session Priest!  He currently serves as the Episcopal Assistant at the Antiochian Orthodox Christian Archdiocese of North America.
Sister Ignatia
Sister Ignatia is a nun at the sacred monastery of St. Nina in Maryland.  She is a former camper, counselor, and head female counselor here at the Village!  She spoke at our Winter Family Camp program a few years ago, and helps run a summer camp program at the monastery where she lives each summer!  We are excited to have her back!
Cade Scott
Cade currently serves as our full-time Program Director here at the Village! He served on our summer staff as a counselor, Afternoon Program Coordinator, and Head Male Counselor before starting here full-time. Cade is from Anchorage, Alaska, where he was very active at St. John Cathedral in Eagle River, and served on staff at the parish's St. John Summer Camp. Cade recently married his wife Maria!
Sarah Arnold
Sarah works for YES, which is a program of FOCUS North America.